Odor Removal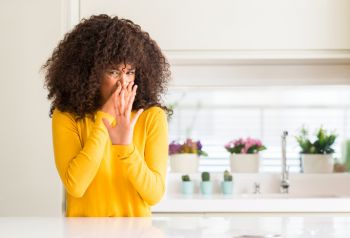 When you notice a foul odor in your home or commercial space, not only is it unpleasant, but lingering odors may also be a sign of unhealthy indoor air quality and pose potential harm to those breathing it in. Candles and air fresheners may mask the smell but won't eliminate the root of the problem and rid the smell for good. When your objective is to find a reputable company who can finally get rid of those unwanted odors lingering in your property, call Structure Medic at (470) 377-6535 for effective odor removal. We have been eliminating odors for homeowners and businesses for over 23 years.
---
Call for a FREE Quote
---
15% OFF
Damage Restoration & Remediation Services
*For Veterans and Public Service Members
expires 02/28/2023
What Causes Foul Odors?
A musty, dirt-like smell is a telltale sign of mold in your property. Other foul odors can be from pets, dog urine, cat urine, vomit, smoke, or food. Whatever the cause, eliminating unwanted and potentially dangerous odors for good is important.
Structure Medic specializes in eliminating odors caused by:
Fire, smoke
Musty homes & basements
Mold, mildew
Dead animals
Pet dander, pet urine
Carpet Odors
Cooking Odors
Formaldehyde, gas, diesel
Cars, Trucks & RVs
Tobacco, cannabis
And more
Structure Medic: The Effective Odor Removal Technicians
Since 2000, Structure Medic has been dealing with unwanted odors in local homes and businesses. With our state-of-the-art odor eliminating equipment and 23 years of experience identifying and eliminating odors, our cleaning methods are believed to be the best way to clean and remove obnoxious odors successfully. We don't just mask the smell temporarily, we eliminate the odors permanently. For the most effective odor removal, call Structure Medic at (470) 377-6535.
---
Call for Fast FREE Quote
---